Birmingham: Kinky and Social FetLife group Fetish & BDSM Club
Address: Birmingham, AL, USA
Fetlife: https://fetlife.com/groups/20889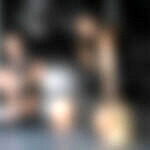 For people who live in or near Birmingham, AL USA and enjoy getting out and doing stuff.
This group will serve as a social network for events (lord knows there aren't enough social networking sites).
If you are hosting an event and would like to get the word out or if you are hoping to starting a new group and would like to gauge public interest… post it.
Some example of event types:
Fetish
Swing
Goth
Pagan
BDSM
Family friendly
Concerts
Art/ Theater
Conventions
D&D Parties
anything
Rules:
fall within Fetlife's terms of use post it in the group.
be open to the public or have an open membership.
If you are posting an event that requires membership, there are a couple of requirements:
Please make sure that "membership only" is listed somewhere in the event
and
Please ensure that the steps for acheiving membership are clearly listed within the post so those not familiar with the group have an idea on how to be able to attend.
You may NOT block any group moderator. Period.
This is not a personals forum* No "booty call" posts.. This is a social group for social events.
 Jump right to the comments 
Other local BDSM parties in Alabama (AL)